Paola Prestini is "the imaginative composer" (NY Times), "Visionary-In-Chief" (Time Out NY), Co-founder and Artistic director behind the Brooklyn venue National Sawdust. She was recently named an "Innovator" on the list of Top 30 Professionals of the Year by Musical America, the country's oldest classical music magazine; she is on Brooklyn Magazine's latest list of "influencers of Brooklyn culture…in perpetuity" alongside such household names as Chuck Schumer and Spike Lee; she is one of the "Top 35 Female Composers in Classical Music" (The Washington Post); and on the "Top 100 Composers in the World" list by NPR. Prestini's music and works have been commissioned by and performed at The Cannes Film Festival, Carnegie Hall, the Kennedy Center, BAM, the Barbican Centre, The Los Angeles Philharmonic, The Los Angeles Opera, The New York Philharmonic, and the Choir of Trinity Wall Street, among others. Since 1999 when she co-founded the multimedia production company VisionIntoArt while at the Juilliard School, (now relaunched as National Sawdust Projects), she has collaborated with poets, filmmakers, conservationists and astrophysicists in large-scale multimedia works (often in collaboration with Beth Morrison Projects). New works include The Amazon, her newest eco-cantata with filmmaker Murat Eyuboglu (collaborator on the acclaimed The Colorado); two new works with Royce Vavrek: Old Man and the Sea, a new opera-theater work with Robert Wilson and cellist Jeffrey Zeigler, and Film Stills, a monodrama for mezzo Eve Gigliotti, director R.B. Schlather and Cindy Sherman; Sensorium Ex, a new opera with poet Brenda Shaughnessy and Tomer Zvulun for Atlanta Opera; and Edward Tulane with librettist Mark Campbell, commissioned by Minnesota Opera. She was a Paul and Daisy Soros Fellow, and studied with Peter Maxwell Davies, Samuel Adler and Robert Beaser at the Juilliard School.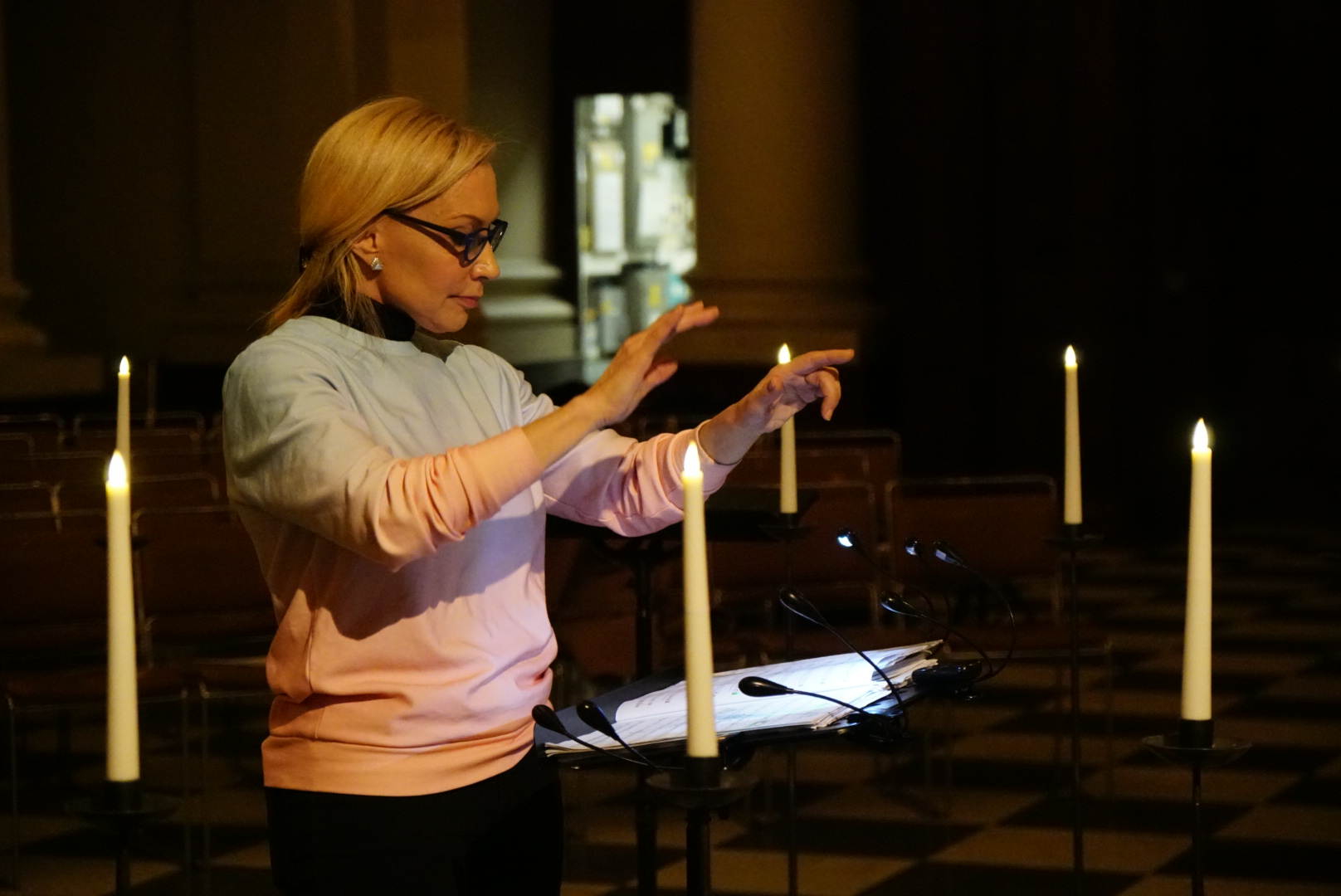 Fratres, after Palestrina
A reflection on Giovanni Pierluigi da Palestrina Fratres ego enim accepi
There was a natural connection for me to the music of Palestrina growing up: from childhood memories in church, to my education as a classically trained musician, and finally during my time at studying at The Juilliard School where as a lecturer I taught species counterpoint.
I wanted to create a sensory piece that gave the soundscape of the life and community that attend a church. To illustrate this, elements of the composition are left to chance, signaling the voices of a congregation. By disrupting the text, the singers babble quickly with a combination of words, getting louder and more indistinguishable, similar to 'the Tower of Babel' where people are muttering and talking over one another. I had fun experimenting outside of the boundaries of species counterpoint, exploring
delayed or non existent resolutions to the dissonance created. I have had many encounters with the music of Palestrina, and to bridge this reflection into my current work was very exciting.
With special thanks to Michael Straus, for generously supporting this commission.
WORLD PREMIERE: Thanksgiving Concert, 22nd November 2018, St John's Smith Square, London