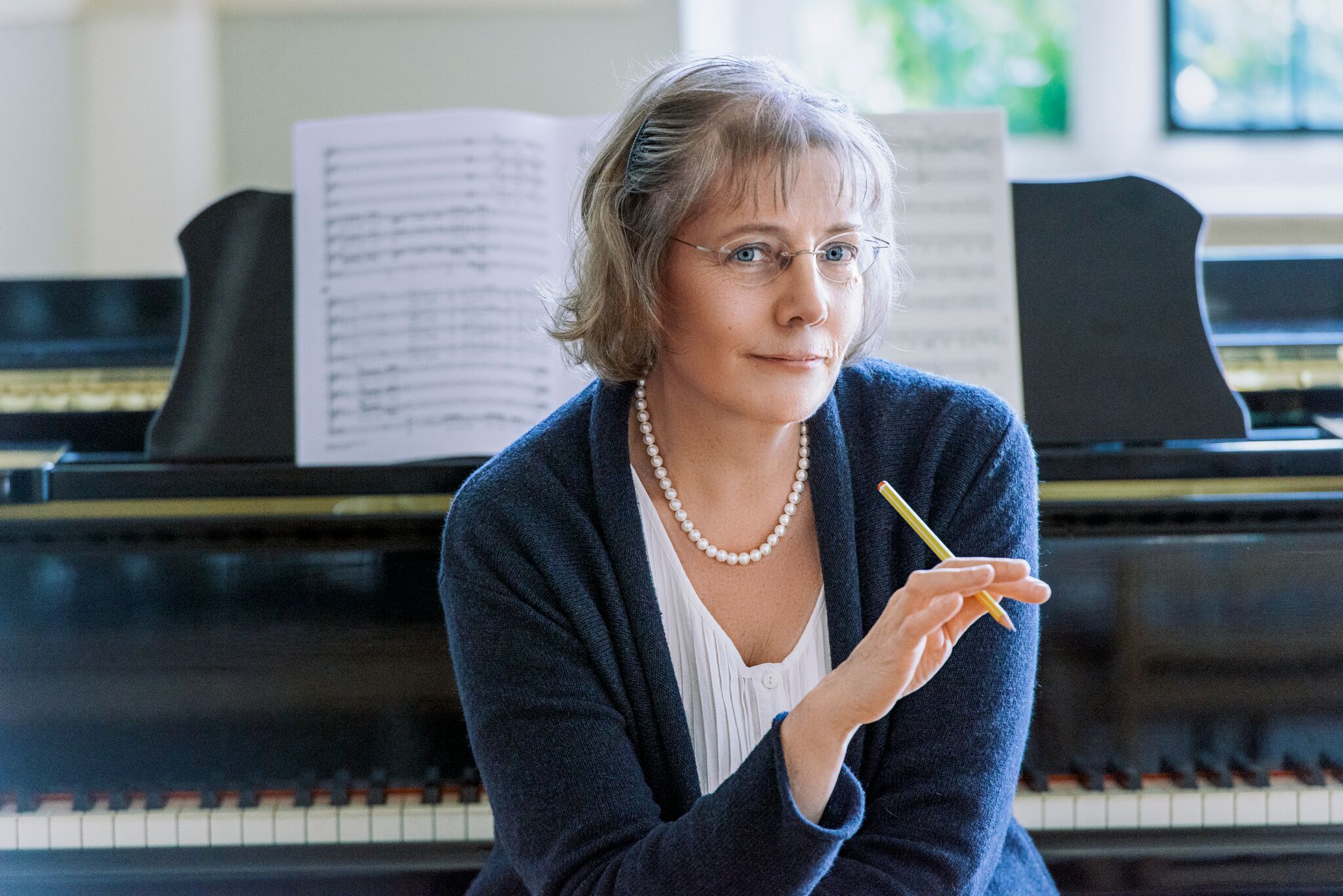 Composer and conductor Janet Wheeler works with choirs in Saffron Walden and Cambridge. She read music at Cambridge, studying composition with Robin Holloway, before a career in secondary music followed by eight years as music producer for BBC Schools Radio. Now a busy choral conductor whose choirs include Granta Chorale and Saffron Walden Choral Society, she is also much in demand as a choral composer, writing music from small a capella pieces to choral/orchestral works, all informed by her strong response to the rhythms and meanings of texts.
Her larger works include Sea Tongue (2004), Magnificat Cum Angelis (2012), The Ceaseless Round of Circling Planets, commissioned for the 2016 Thaxted Festival, and I Sing and Ever Shall from the same year, commissioned by Southampton Philharmonic Choir. Wheeler conducts the second performance of this in March in Saffron Hall. Commissions from 2017 included Songs and Visions of Joy for Psallite Women's Choir, And Then We Knew Peace and A Poison Tree for Farnham Youth Choir, and a commemorative choral cycle Gather the Good Days, commissioned as a companion piece to her earlier cycle Time Becomes a Song.
Choirs performing Wheeler's music include Gloucester Cathedral Choir and I Fagiolini (both in broadcasts on Radio 3), the National Youth Choirs of Great Britain, National Youth Choir of Wales, University of London Chamber Choir, Imperial College Choir, Chandos Chamber Choir and many more.
Her recent competition successes include the Friends of Cathedral Music Diamond Jubilee Introit Competition in 2016 and the Hendrix Carol Competition 2017. She is currently working on music for NYCGB with percussionists O Duo.
A reflection on Palestrina Terra Tremuit
Palestrina's setting of the Terra Tremuit text is comparatively restrained, but yielded numerous elements which inspired my unashamedly dramatic interpretation.There are two specific musical links to Palestrina's setting. One derives from his use of near false relations, and the other is some near incidences of consecutive fifths.Of course, Palestrina avoids these through his voice leading, but they still create parallel triads. I've combined overt, sequential consecutive fifths with one of Palestrina's typical decorated resolution figures and used this progression at first with persistent false relations, and later with a whole-tone setting, to create my own parallel triad music. This effect is designed to represent sliding tectonic plates, and serious shifts of ground.The shifting tonality of these sections is intended to be dramatically unsettling.By contrast, the opening and similar passages are inspired by a florid decorated style of melismatic singing heard in the traditional music of various cultures. I've used this to create a quaking effect. These florid sections enter imitatively (again, alla Palestrina, though with added harmonic support).
WORLD PREMIERE: 1st June 2019, LSO St Luke's, Design Series #2- Music of Rome.